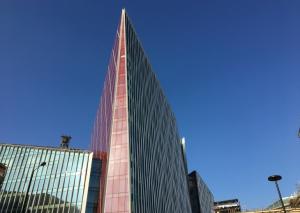 The UK's cyber security regulator has joined a chorus of voices calling for an industry effort to install common data security standards, particularly within businesses.
The National Cyber Security Centre (NCSC) has joined several other companies and organisations in Secure Chorus, an industry group that aims to ensure that business communications are kept secure through introducing new best practices.
Founded in 2012, Secure Chorus currently exists as a platform for public and private sector companies to collaborate on all things related to online security. Starting life as an industry-led focus group, its current aim is to develop a security baseline for a new digital economy, particularly when it comes to keeping multimedia communication secure.
Its member organisations comprise global telecoms firms, system integrators, defence contractors, academic organisations, trade bodies and straight-up technology firms. Big names on Secure Chorus's books include O2, BAE Systems, University College London and Sepura.
The NCSC's membership of the group – as a government body – underlines official support for the creation of common standards in a bid to stop the growing threat of phishing scams and attacks like WannaCry or NotPetya which breached systems at the NHS and several large firms.
The NCSC said that joining Secure Chorus fit into its remit to make the UK the safest place to live and do business online.
It added in a statement that it hoped to raise the standard of existing digital defences by "developing innovative measures" that can protect the country "at scale", and that it broadly supported Secure Chorus' work in making the UK's digital economy safer.
Ian Levy, technical director of the NCSC, said: "One of the key objectives of the National Cyber Security Centre is to enable a safe digital economy and we see easy, secure communication for enterprises as key to that.
"Secure Chorus will play a role in convening a much-needed forum to bring together global industry, governments and academia to promote the development of an ecosystem of secure and interoperable products based on open standards."
The NCSC's work has already prevented millions of online commodity attacks, according to the group's first annual report, and has already spearheaded several initiatives in its first year of existence thanks to data provided by these attacks and its partner organisations.
Elisabetta Zaccaria, chair of Secure Chorus, said: "We recognise that the global digital world needs baseline security as much as the non-digital world. We firmly believe that this can be achieved only through increased public-private collaboration and development of common standards.