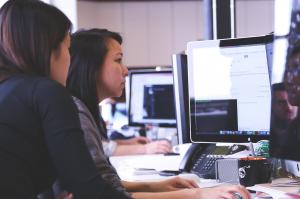 The chronic worldwide shortage of cybersecurity professionals is only amplified by the wavering number of women working in this industry. With females only accounting for 20 per cent of the global cybersecurity workforce, it is no surprise that there is a large gender bias in the IT world that requires immediate attention.
It is projected that a cyber gap, the quantifiable difference between the demand and supply of cybersecurity staff, will reach 1.8 million by 2022; to balance this equilibrium as well as tackle the issues surrounding gender disparity, programmes across the globe are being unfolded to encourage and train women for beginner IT analytical roles.
Most recently, the Department of Culture, Media and Sport has launched a training programme called Women in Cyber to upskill and convert women of all educational and technical backgrounds to entry-level cybersecurity positions, provided candidates show an aptitude for the role – technical and non-technical.
The aim is female empowerment in a historically male-dominated field of work, and to allow women to take their first steps into a new industry whether they are looking to switch, or simply start their careers.
PGI, the international leaders in cyber and intelligence behind the training scheme will offer a 10 to 12-week course that will equip women to start working as entry-level cybersecurity professionals. Candidates will be put through a rigorous educational programme at the company's up-to-the-minute Cyber Academy.
Recruitment firm Hawker Chase has teamed up with PGI to offer candidates employment opportunities even before they've started the training. This ensures that an influx of newly educated cybersecurity professionals will be able to start work immediately in a severely understaffed industry.
The onset of such a programme couldn't come at a better time, with PGI's Managing Director Brian Lord stating: "The demand for cybersecurity specialists is at an all-time-high. I refuse to sign up to the industry's self-serving charade that only those with special technical skills can enter the profession. No one doubts there are jobs where deep technical expertise is required, but there are many more that are either non-technical or require a basic entry-level technical knowledge that can be taught."
The programme has been tried and tested with success within the UK and abroad, allowing industry-wide expectations of demand and supply to be met. According to Lord, over a third of UK organisations were previously unable to fill vacant cybersecurity roles, despite 82 per cent expecting an imminent cyberattack.
PGI's current programme is in its initial stages and will be followed by a greater roll-out in the future.
With the balance of gender scales, it is anticipated there will be a surge in employment and a bridge in the demand-and-supply gap of cybersecurity professionals.
Lord concluded, "The industry [was] killing itself by creating artificial barriers to entry for 50 per cent of the working population."