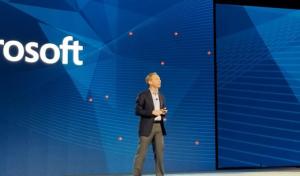 Several of the world's largest technology companies have co-signed a security charter that will mandate them to protect their products and customers from increasingly complex cyber attacks.
Earlier this week, at the launch of the 2018 RSA Conference in San Francisco, a list of the tech industry's leading lights signed the Cybersecurity Tech Accord.
Some 34 companies – led by Microsoft and including Symantec, Facebook, SAP, HP, Nokia and Oracle – signed an agreement to stop cyber criminals or even nation states to prey on customers or connected technologies.
Microsoft wrote that the compact showed that the "operators of technologies that power the world's internet communication and information infrastructure" would work together to achieve this aim. This will be done be ramping up every sector or region's capacity for cybersecurity and encourage developers, businesses and consumers to "better protect themselves".
All of the firms involved will also work together in order to make sure that "efforts to misuse, tamper with or exploit" their products and services are opposed effectively.
These form the cornerstones of the Cybersecurity Tech Accord: to promote stronger defenses, to prevent offensive government intervention, to build capacity for anti-cybercrime efforts and to work together as a collective.
A press release announcing the agreement points out that the companies involved may well have adhered to some or all of these principals prior to signing up – but that the Accord represents a public commitment to uphold them. It is also open to be signed by other private sector players, regardless of size or sector, who have high cybersecurity standards.
Brad Smith, president and chief legal officer of Microsoft, said the company has teamed up with its competitors to create "old new measures to defend and protect technology users around the world".
He explained: "We recognised that supporting an open, free and secure internet is not just the responsibility of individual companies, like ourselves, but a responsibility that must be shared across the entire tech sector and with governments.
"The first step in creating a safer internet must come from our own industry, the enterprises that create and operate the world's online technologies and infrastructure."